RESEARCH EXPERIENCE FOR UNDERGRADUATES (REU)
SUMMER 2010

What are YOU doing next summer?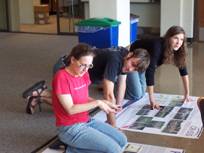 Last Summer, CReSIS REU students:
Calibrated a radar to use on the Greenland ice sheet,
Analyzed the stability of a remote controlled aircraft for use in Antarctica,
Designed and built a sled to help measure ice layers in Greenland,
Debugged wireless communications for collecting data on the ice sheets,
Calculated Antarctic snow accumulation using radar data,
Learned about ice streams speeding up and ice shelves collapsing and
Worked with world-class scientists to Understand and predict the role of polar ice sheets in sea level change.
Research Experience for Undergraduates (REU): This summer internship provides the opportunity for undergraduate students to conduct research on topics of global significance. Students work closely with faculty advisors and other student researchers.
If selected, students will receive:
$3800 Stipend
On-campus room and board
Tuition for one hour of college credit
Transportation costs from their home to campus.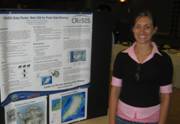 Eligibility: Highly motivated undergraduates who can successfully complete independent work and have a strong interest in climate-related studies and polar science are encouraged to apply. Students must have a minimum GPA of 3.0. Preference will be given to students completing their sophomore or junior year. Students majoring in physics, engineering (electrical, aeronautical or mechanical), geography, atmospheric science, geology, geophysics, computer science or mathematics are eligible. Women and minorities are especially encouraged to apply. Currently, the REU Program is available only to US Citizens and its permanent residents

Location: CReSIS REU students can spend the summer at the University of Kansas (Lawrence, KS), Pennsylvania State University (University Park, PA) or Indiana University (Bloomington, IN).

Our Research: Do you know people who have been impacted by hurricanes or big storms? As coastal development expands with a growing global population and increased urbanization, the number of people living near the coast will expand, and the need to understand and predict future sea level rise is becoming increasingly important. The future of the Greenland and Antarctic ice sheets are the largest uncertainty in current sea level predictions. CReSIS is addressing this global need to understand and predict the role of polar ice sheets in sea level change.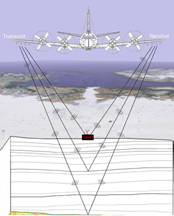 Who? A team of world-class scientists and engineers working together is required to address the important issue of how the polar ice sheets will respond to climate change. CReSIS electrical engineers are developing innovative radars and seismic sensors to provide a three-dimensional image of what lies below the surface of these ice sheets. Other engineers are designing and building remote controlled, uncrewed aircraft to carry these sensors over the ice sheets. Glaciologists, geophysicists and GIS experts are using these results to create maps of the base of the ice sheet, and model ice sheet dynamics. Computer scientists are designing mobile units which can be used in polar regions to rapidly store, process and back-up data.

"Being able to do original research in my field was very fulfilling because I was able to learn at the same time as creating something useful".
-REU student
Contribute to research on Ice Sheets and Sea Level – apply to work at CReSIS this summer!
Questions? email reu@cresis.ku.edu
Applications available in late November